Become a Member Today!
Baywood Racquet Club offers several different membership options for individuals and families. Membership dues are collected monthly and cover all club amenities, including access to the clubhouse and grounds. We maintain all tennis courts daily to ensure they are in tip-top shape for your next visit.
Get Started
Membership Packages
Individual Membership
For One Individual Member
Reserve Courts on Demand
$150 One-time Initiation Fee
$70/month
Family Membership
For up to Four Family Members
Reserve Courts on Demand
$150 One-time Initiation Fee
$95/month
Additional Options
Non Member Coaching
Non member juniors (under 18) can access our coaching programs at a higher rate than members.
$30+/Visit
Member Guests
Baywood Racquet Club members may invite guests at their leisure for an additional fee, paid for by the member.
$30/Visit
Ball Machine
This option provides members with a fully automated ball machine available to be pre-booked on courts #1 and #2.
$25/Month
Racquet Stringing
Stringing services are available daily in our fully equipped club pro shop, where members can drop off their racquet.
$10-$35/Racket
Frequently Asked Questions
The easiest way is through our court booking app, which will notify you of any court closures. You can also check our website and social media channels.
Once you have become a member, there is no need to renew, as the membership continues on a month-to-month basis after the first 12 months.
Members of the club can bring guests to play for an additional fee of $30.00 per visit, paid for by the member.
Players must always be in tennis or tennis appropriate attire and tennis shoes with proper tread to protect the clay courts. Running shoes are not permitted.
Yes, you can, as long as your dog is on the leash at all times and is not a distraction to members. Dogs are not permitted on the courts or in the clubhouse.
Baywood Racquet Club welcomes players of all levels and ages. We provide a warm welcome to tennis for people new to the sport and more experienced players.
Absolutely! Contact us today, and we will be more than happy to show you around and even arrange for you to have a game with some of our members.
Prospective members have the choice between individual and family memberships. Additional services, including automated ball machine, junior coaching access, guests, and racket stringing, are available for an added cost.
Baywood is always ready to welcome new players. We have men's, women's, and mixed teams competing in the USTA leagues at various levels.
Yes, we have two large parking lots on either side of the club.
We are a members-only club. You are welcome to contact us and pop in for a tour, and we can arrange for you to have a game and see if you would like to join the club.
Yes, we do. Our pro shop stocks Baywood Racquet Club merchandise as well as the latest selection of Wilson rackets and accessories. Racket restringing is available in the pro shop for an additional fee—just drop off your racquet.
The club's junior program is in line with the USTA guidelines and provides an excellent opportunity for all children to get involved in tennis regardless of their level.
Using our court booking app, members can book the ball machine in advance. Please note the ball machine is only available for courts 2 and 3.
Members can make reservations up to one week ahead of the scheduled time.
A member must accompany all guests.
Only members may reserve courts.
It is the member's responsibility to pay guest fees.
Guests are allowed at $30.00 per visit.
Members and guests must wear masks indoors, and hand clean before and after play.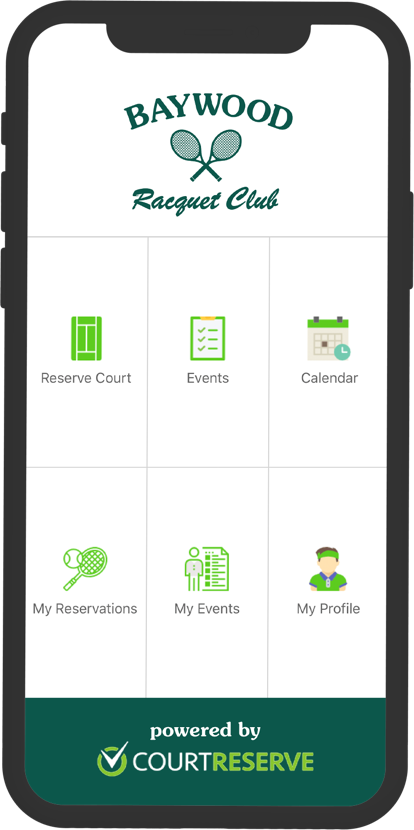 Membership at Your Finger Tips
Baywood members can manage their
membership right from a mobile device.
Reserve Courts
Schedule Team Play
Add Members
And more!
Download the Court Reserve
app on your phone!